REFER US AND GET MORE THAN CHF 200
GET REWARD IN CASH!
How does it work?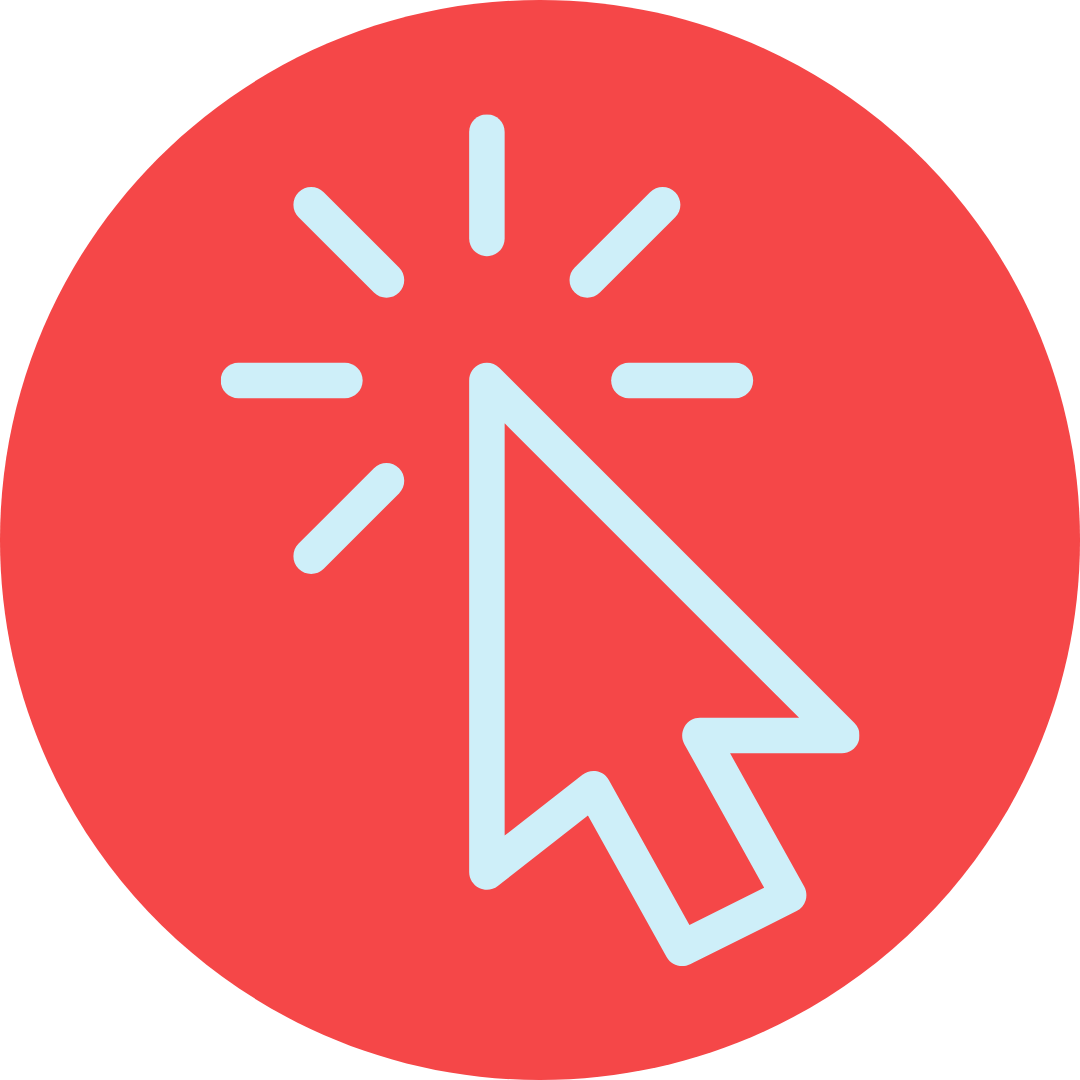 1. SELECT A PRODUCT
Select the MUCHO product you want to recommend to your friends.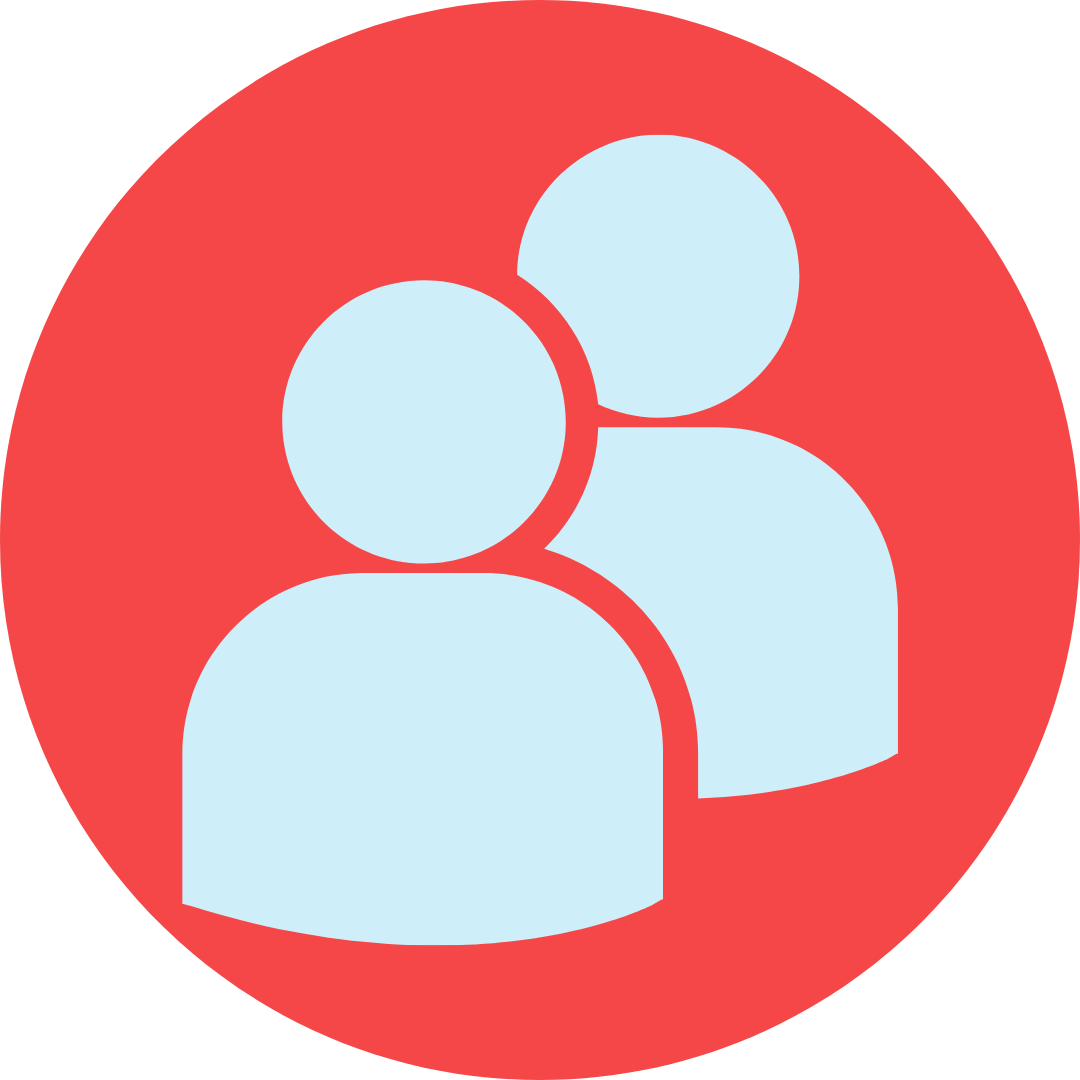 2. SEND YOUR LINK
Enter your data so you can get your personal sharing link.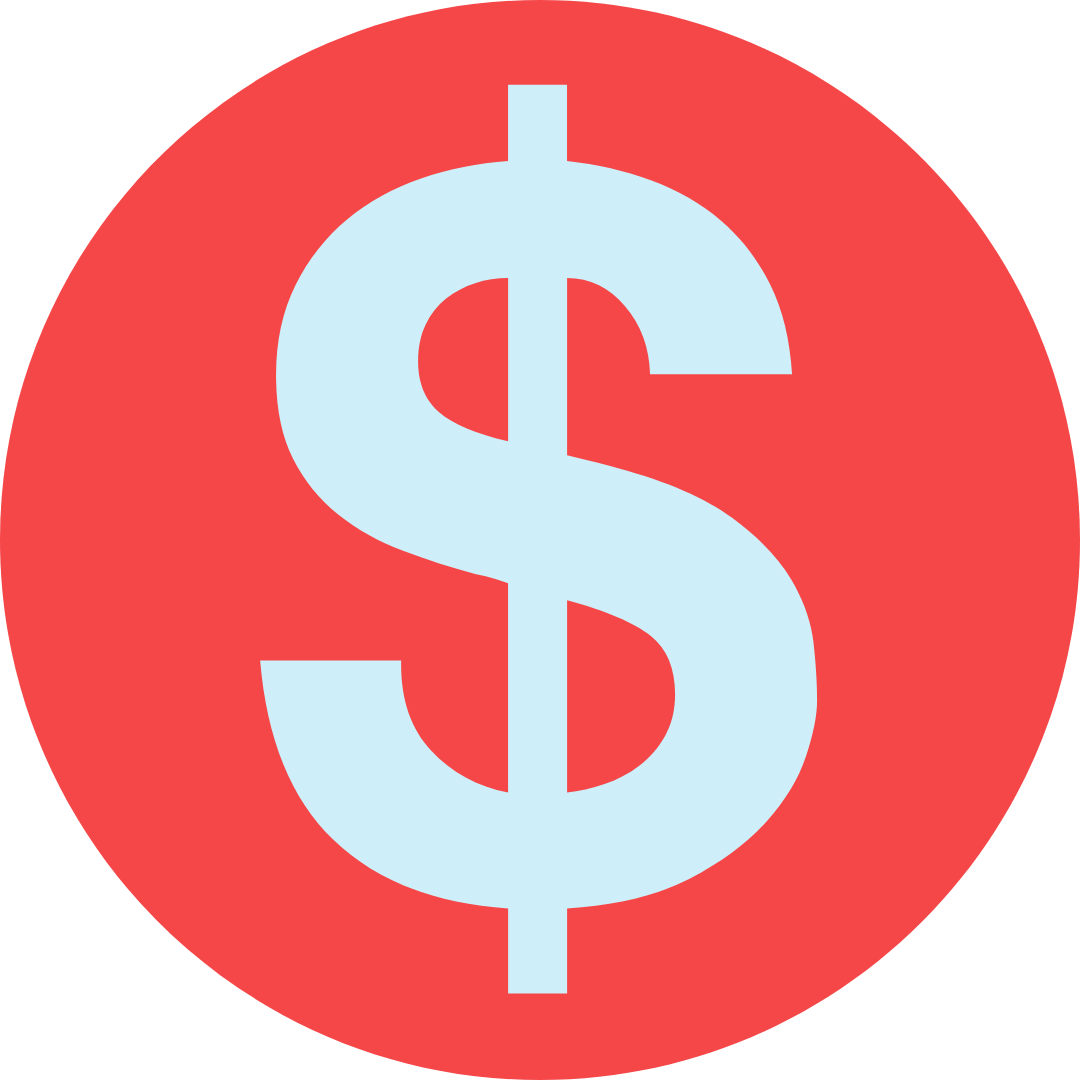 3. GET THE REWARD
Get CHF 10 for each friend who joins MUCHO and renews.
Your reward in cash increases with each friend that join MUCHO !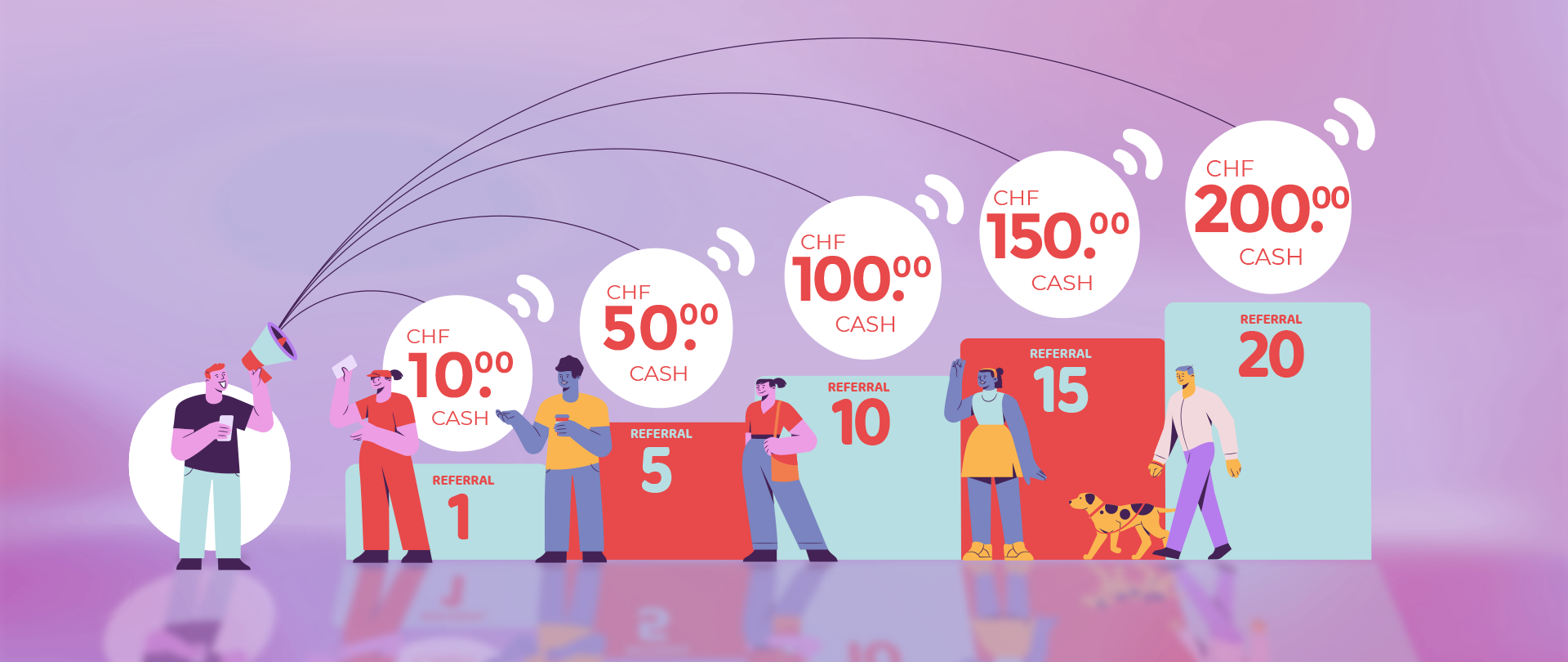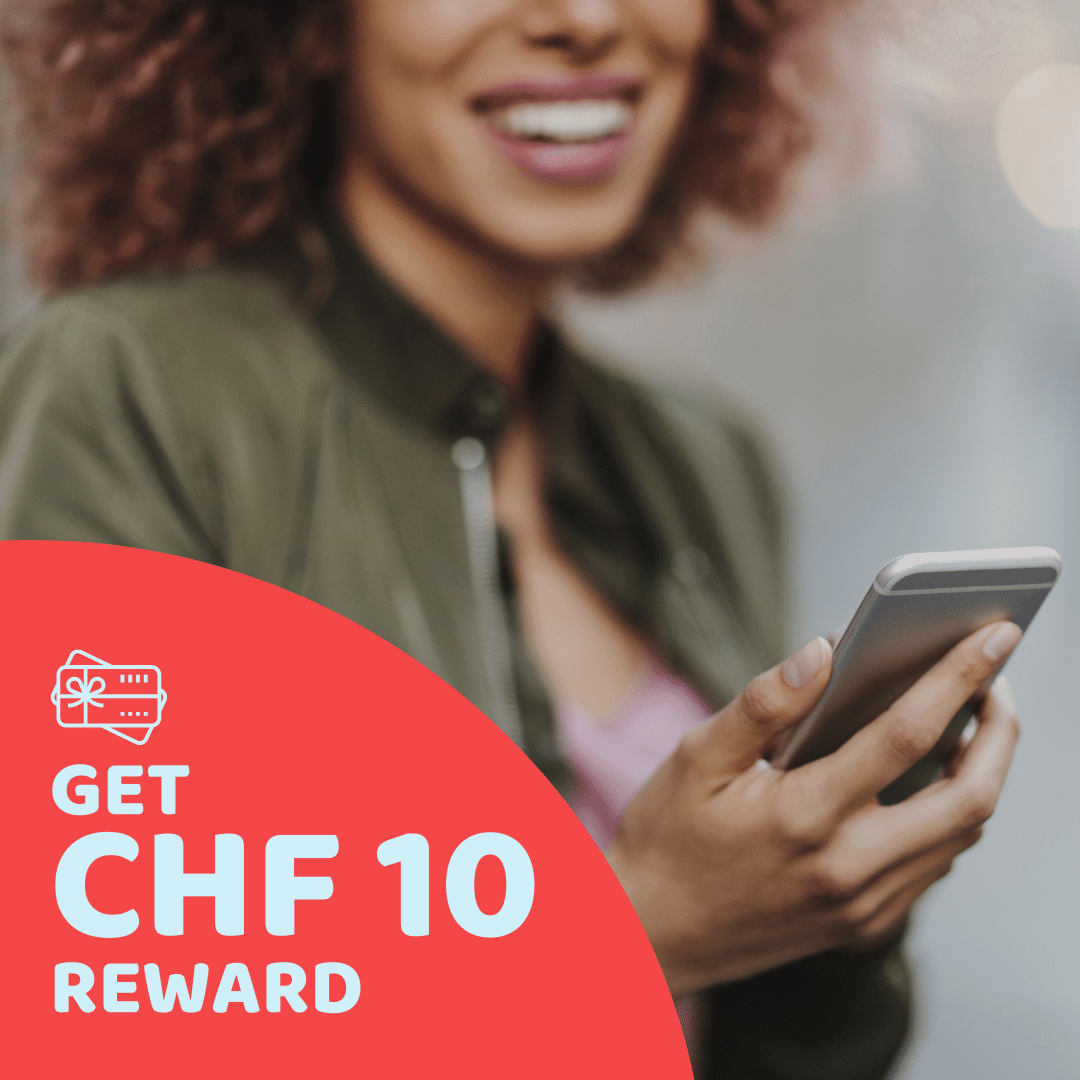 What happens after I refer someone ?
Once your link is created, your friend has 30 days to join MUCHO.

You get your reward in cash, 6 to 7 weeks after your friend has registered and renewed their prepaid pack or a mobile ABO once.

You are notified by email when a referral is successful and when your cash arrives on your bank account, you can control on your recommendation portal here.
You still have a question?
It's easy. To start earning cash simply follow the referral program here and enter your name, surname and email and get your referral sharing link. Then, share your personal sharing link via email, Facebook, WhatsApp, Messenger, or any instant messaging of SMS platform. If your friend subscribes and renews his service once atMUCHO, you'll be rewarded !
Referral program includes our prepaid packs and mobile abos. The reward is not applicable for a Free SIM.
No anyone can participate !
Yes. You will be asked to enter your bank detail information, so we transfer the cash to your bank account.
You receive your reward 6 to 8 weeks after your friend has paid his first subscription renewal.
You will receive your reward directly on your bank account. If you are a MUCHO customer, this money allows you to pay future MUCHO invoices or anything you wish tu buy. Freedom !
You receive a reward for any mobile abo or prepaid pack that a new customer concludes via muchomobile.ch and renews once with your personal sharing link. Purchases done via the traditional sales shops are excluded of this referral program.
In order to get your reward, your friends must use your unique sharing link (valid for 30 days) to purchase their plan via our website. Unfortunately, if your personal sharing link was not used by your friend, we have no way to verify the referral. In this case we won't be able to offer you your reward.
There is no limit ! You can refer as many friends as you want to become new subscribers to our mobile subscription or prepaid pack.
There is no limit. You can refer as many as you wish and get CHF 10 each time!
Our referral program is powered by our Trust Partner Telja. You can see on your referral personal console clicking here.
Our partner Tellja is available to answer any questions by email at support.en@tellja.ch or by phone at 0800 00 04 64.