When your kids reach a certain age, all they want is their own smartphone to chat with their friends and surf the Internet. Choosing your child's first mobile plan can be tricky, though. How do you find the right balance between freedom and control so that your kids stay connected but not dependent? Especially since, due to their young age, they are not yet fully aware of the risks of using a cell phone. It is therefore essential to educate them and to make them understand the limits in order to properly accompany them in the face of this new technology.
Here are all our tips to develop good habits and allow you to choose the ideal mobile package for your child.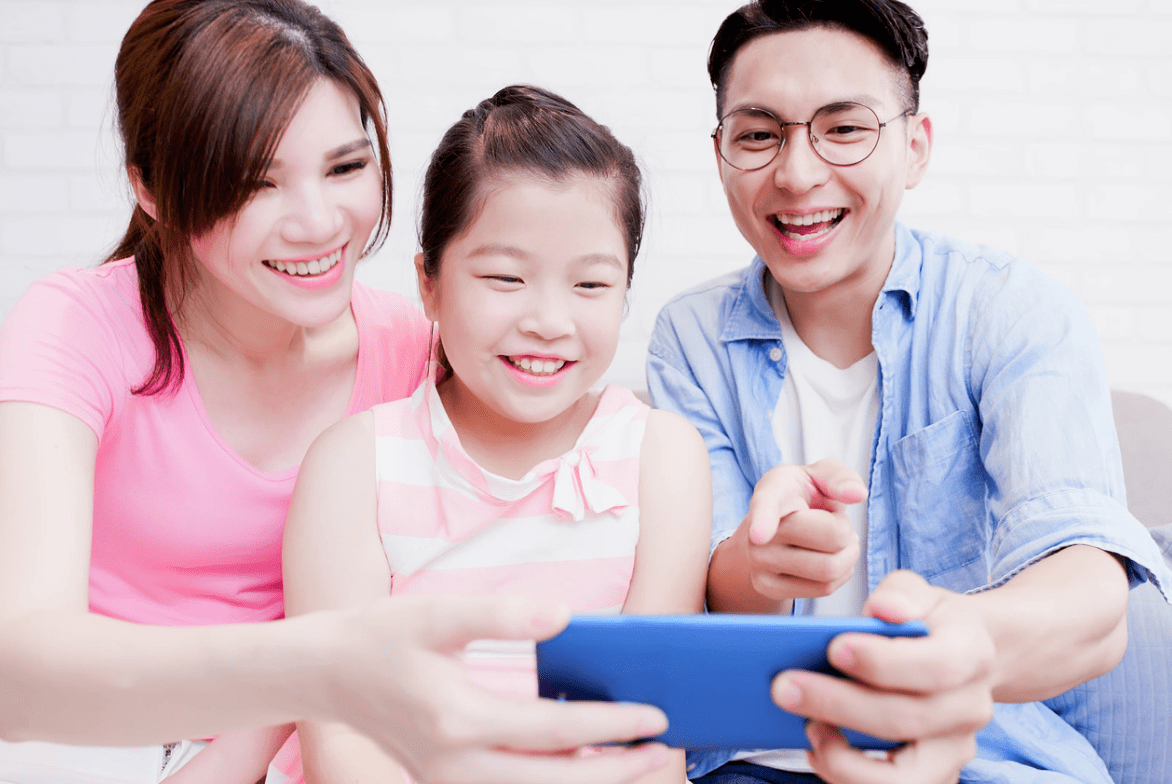 How to safely control the use of my child's first mobile plan
Giving your child their first cell phone is a big responsibility. It is essential to keep in mind that this can have both a positive and negative impact on their behaviour. But where do you start in supporting them in this process and developing good habits?
When is the right time to give my child their first mobile plan?
Sooner or later, all children ask themselves the same question: "When will I get my first cell phone?'' Unfortunately, there is no universal answer to this question.
Today, children tend to get their first smartphone at an increasingly young age. It is estimated that 30% of 8 to 9 year-olds own a cell phone. On the other hand, 60% of children aged 10 to 11 already have one. However, age is not the most important criterion.
The use you wish to give to your child's first device is much more decisive. Indeed, having an unlimited internet connection at 8 years old doesn't make much sense. This age is far too young to allow the child to regulate its own consumption. However, it makes sense for a child of the same age to be reachable if he/she travels independently to school. It also depends on your child's level of maturity. Here are a few clues as to whether your child is already mature enough to get his or her first cell phone:
Will your child be able to follow the rules that are set?
Does your child understand the notion of what is private and what can be shared?
Is your child already aware of the dangers of the web and the irreversibility of certain actions?
Does your child have the reflex to turn to you or someone he/she trusts if he/she feels overwhelmed by events?
So, depending on the situation, it may make more sense to start a dialogue. Start by educating your child before giving them access to their first cell phone. Moreover, you can opt for a prepaid mobile offer that prevents your children from spending more data than allowed. This way you stay in control.
What are the rules for responsible use of my child's first mobile plan?
Before giving your child their first mobile plan, they need to understand the purpose for which they are receiving this first smartphone. What are the rules associated with it. In particular, it is recommended that you set break times during which the use of cell phones is forbidden.
This line of conduct is essential since it will allow your child to adopt the right habits from the beginning.
To do this, we recommend that you define a clear, simple and age-appropriate contract. Discuss the rules together so that they are understood and respected. Dialogue is the key. It allows you to make your child understand the importance of this contract and that you are there to accompany him.
Here are some examples of rules that can be very useful:
Do not give out personal information to anyone.
Do not make purchases without parental permission.
Never open unwanted emails from people you don't know.
Do not discuss or accept friend requests from people you don't know.
When in doubt, your children MUST know that they can trust you.
What about parental control apps?
While it's essential that your kids feel confident, it's hard to make sure they're protected when they're on their phone without your control, isn't it? A parental control system allows you to limit screen time, set time slots, and ban certain sites that may contain sensitive content.
In addition to the limits that a prepaid child's package provides for you and your family, you can ensure that your child is safe while surfing the Internet. These tools to be installed on your child's cell phone and sometimes yours are very handy for tracking your child's phone usage in real time. However, it is essential to keep in mind that dialogue remains key. Monitoring is only a tool to support this effort of communication with your child. In order to establish a pact of trust, you must also make sure to respect their privacy. Otherwise, they will not be able to behave responsibly. It's all about balance.
To better understand the use of parental controls and to build a relationship of trust, discover all our tips here.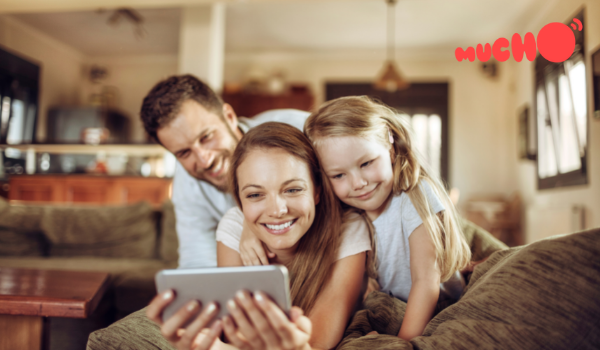 Control costs and cosumption with the first mobile pack for my child
Opting for a prepaid plan for my child
Making sure your children have the right smartphone for their first experience is important. But making sure they have the mobile service they need is the most important step. Why is that? Because kids can easily overspend without realizing it. Spending long hours on the Internet, even spending on mobile applications they don't really need or can't afford. And paying for it would be unwelcome, wouldn't it?
Cost control
For this, a prepaid mobile offer for kids is the perfect alternative. One of the great advantages of prepaid is that you can define a mobile data package with a certain price in advance. And above all that this amount cannot be exceeded. The cost of your child's mobile data package will never exceed what was initially planned.  This way you avoid unwanted expenses and unpleasant surprises at the end of the month.
Managing your consumption
In addition to controlling your costs, prepaid offers for children allow you to teach them to manage their own consumption. Once they have spent all the internet data in their pack, their internet speed will be considerably reduced. This way you avoid any unwanted expenses. They will no longer have access to videos or other services that require too much mobile data. But don't worry, your child will always be reachable by WhatsApp or other mobile messaging services. We don't block their internet access completely, but we do limit it. This will teach them an essential lesson about the value of money and how to control their spending. Your kids will learn to get the most out of themselves, because getting 1GB in your monthly plan and spending it all on the first day can be very frustrating. You'll see how quickly they learn from their experiences!
Flexibility
Prepaid also offers the perfect amount of flexibility, with no commitment, to meet kids' cell phone needs. Packs can be renewed every month (manually or automatically like MUCHO does). You can decide at any time to change your child's pack or to stop it without any additional cost.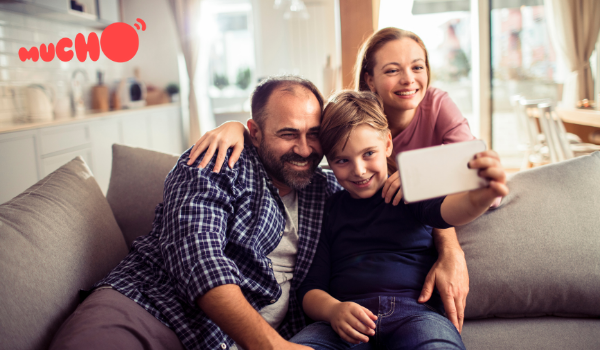 Choosing the right prepaid SIM card for my child's first mobile plan
To help you find the best mobile plan for your child, the first question to ask yourself is to determine how you want to use your child's mobile phone. How often will your child use their cell phone? Will they only use it to call you? Or to chat with friends?
The best cell phone offer for children is the one that best suits the needs of each child. In order to better compare the different mobile subscriptions for children you can discover our comparison of prepaid mobile offers in Switzerland.
The choice of the cell phone plan is not only made in terms of costs. Here are the most important options to make the right choice:
The number of minutes of calls and SMS
The volume of internet data
The network coverage in Switzerland
The possibilities of use in Europe
The presence of a commitment or not
Choosing a limited or unlimited plan for my child?
Unlimited also raises questions. Is it a good idea to provide my child with an unlimited package? Again, the answer depends on their age, maturity and the use you want to give them. However, keep in mind that with an unlimited package, it will be difficult for your child to learn to limit themselves and therefore develop responsible behaviour.
An unlimited package can be perfectly suitable for a young teenager. Their needs are generally more data-intensive. And above all, they have already had a mobile pack before, with which they will have developed good habits. For a younger child, a prepaid pack with limited data seems more relevant. It will limit the time they can spend on their screens. You will be able to follow their consumption and the time they spend on their phone. With MUCHO, you can find out the number of minutes and the amount of data spent on myMUCHO or by sending a free SMS from their phone.
Compare and order your children's SIM card from MUCHO Mobile
Once you are ready to make your choice, you can follow these simple steps to get a prepaid SIM card for your children with MUCHO:
Order online under your name.
Once received, go to myMUCHO and create your account.
Your pack will be renewed automatically every month.
And you know what's even better? You can change your mind at any time. With a prepaid pack, there is no contract. You can change your child's pack whenever you want for more or less internet data and calls. Change easily with a few clicks, your child will always keep the same number!
Do you feel better prepared to make the right choices when it comes to phone expenses? We're MUCHO happy.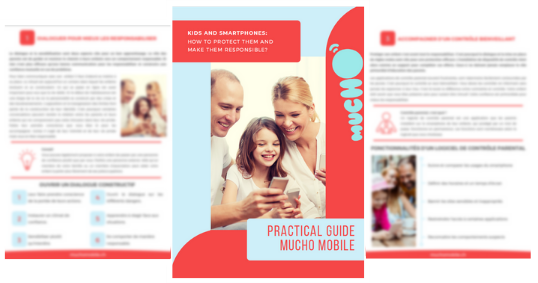 The Practical Guide To Accompany My Child With His First Smartphone
A first smartphone is often a highly anticipated event, but children need to understand there are limits. It's essential to educate them about this new technology. Do you need some advice?